Tomato salad with yogurt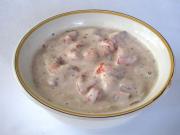 Tamatar Raita (Tomato Raita) is a tasty salad served to almost all salty vegetarian dishes. Its preparation is fast and simple.
recipe,photo-recipe,tomatoes,yoghurt natural,Vegetable salads,Vegetarian recipes,Indian cuisine,Gluten-Free
Vegetable salads
Indian cuisine
Recipe
1.
tomatoes 8.75 oz (250 g)
Wash the tomatoes and cut it into small pieces.
Bon appetit!