Beet salad with yoghurt and almonds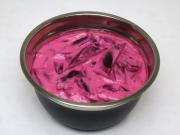 Tasty beet raita (Beetroot raita, Chukander) is a popular side dish to spicy Indian dishes. It has a mild sweet-sour taste and is suitable as a separate meal for a diet dinner.
recipe,photo-recipe,beetroot,yoghurt natural,ground almonds,Vegetable salads,Vegetarian recipes,Indian cuisine,Gluten-Free,Seasonal recipes
Vegetable salads
Indian cuisine
Recipe
1.
beetroot 10.5 oz (300 g)
Wash smaller beet and cook in water, covered with lid, for about one hour until soft. Strain the water and let it cool. Alternatively, cool it immersed in cold water.
2.
Peel the beet and cut into slices.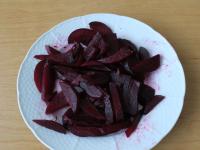 Bon appetit!