Beetroot salad with fruit and sweet corn
Delicious vegetable and fruit salad, great as a side dish to roast meat.
recipe,photo-recipe,beetroot,Vegetable salads,Gluten-Free,Seasonal recipes
Vegetable salads
Recipe
1.
Wash beetroot, put it in a pot with cold water and cook until tender (for about 1 - 1,5 hour). Then pour the water out and let the beetroot cool.
2.
Peel the beetroot, cut it into thicker slices ...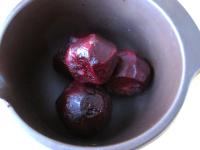 3.
... and press it through French fry potato cutter.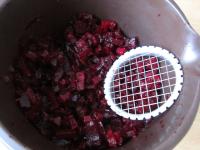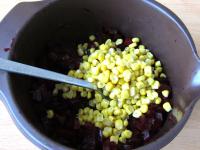 5.
kiwi 7 oz (200 g)
Peel kiwi, cut it into slices and press through French fry potato cutter into the beetroot.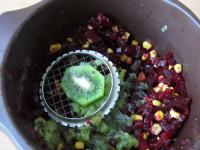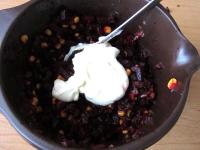 7.
pineapple slices in a can 5.25 oz (150 g) • apples 5.25 oz (150 g) • salt 1 tsp
... pineapple without juice and peeled and coarsely grated apple. Stir in salt to your taste. Let the salad rest in the cold place at least one hour before serving time.
Bon appetit!