Creamy mango and vegetable salad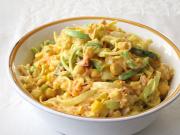 Tasty and delicious salad, great not only as a party food. The best with cutlets on Sundays and even with wholemeal pastry during ordinary days.
recipe,photo-recipe,carrots,leek,mango,corn sterilized,Vegetable salads,Gluten-Free,Seasonal recipes
Vegetable salads
Recipe
1.
carrots 5.25 oz (150 g) • radish 5.25 oz (150 g)
Peel a carrot, wash it and grate finely. Clean radishes and grate them coarsely.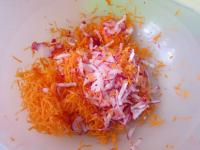 2.
leek 10.5 oz (300 g) • spring onion 1.75 oz (50 g)
Peel and wash leek and spring onion. Cut the leek lengthwise and slice it finely. Cut spring onion into thin rounds. Add them to carrot.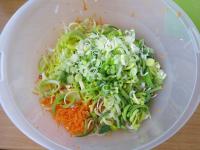 3.
mango 10.5 oz (300 g) • corn sterilized 8.75 oz (250 g)
Peel mango, cut out the pit and cut it into small pieces. Add it to salad together with drained sweet corn and mix.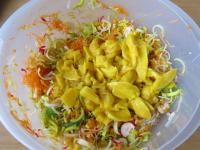 5.
Let the salad rest for at least 6 - 8 hours to combine all the tastes. Gently stir before serving.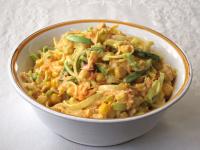 Bon appetit!