Head cheese
One kilogram of the best home made pork head cheese with guaranteed high quality ingredients.
recipe,photo-recipe,pork trotters,pork tongue,pork shoulder,garlic,Meat,Snacks,Slavic carnival,Gluten-Free,Lactose-Free
Meat
Recipe
1. Preparation and cooking
pork trotters 1.8 lb (800 g) • pork tongue 14 oz (400 g) • pork shoulder 1.8 lb (800 g) • onion 1 pc • garlic 5 cloves • whole black pepper 1 tsp • water
Rinse well two trotters and remove possible hairy parts. Rinse also tongue and meat. Peel onion and garlic. Put all the ingredients in a pan, pour water in so that meat is covered, add salt and pepper. Slowly cook everything in the pan together for 1,5 hour.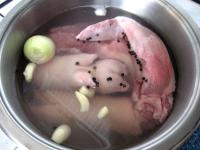 2.
Remove meat and tongue after 1,5 hour and continue cooking trotters until they start to crumble - approx. 1 hour.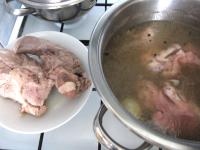 3. Pork tongue
When the tongue cools a bit, peel off the skin, remove possible little bones and very soft parts from the tongue root and below the tongue.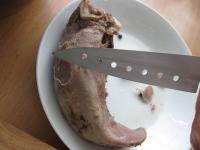 4.
Then cut the tongue into thicker slices - around two centimeters thick.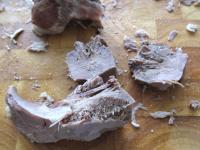 5. Pork
Cut also cool pork into thicker slices. Put tongue and pork into a pan, cover them to avoid drying off while we prepare trotter paste.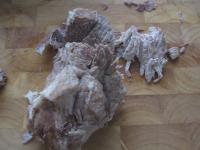 6. Trotter paste
Remove cooked trotters from broth, let them cool and disjoin them. Remove all the little bones and cartilages.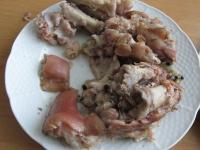 7.
garlic 10 cloves
Put cooked parts of trotters together with garlic into the kitchen meet chopper and chop until it becomes a mash, or we can grind it in a meat grinder.
8. Head cheese
salt 0.5 tsp • ground black pepper 1 tsp
Add trotter paste to the sliced meat, season with salt, pepper and stir well.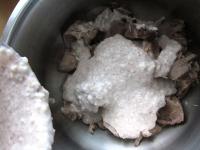 9.
Add three small ladles of broth and stir again. We can still season it with salt to our taste or need.
10.
Put bag for a head cheese into ham cooker and put head cheese mixture in.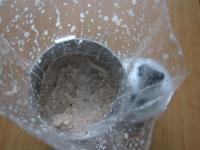 11.
Close the bag and apply pressure piston (part of the ham cooker) to compress the head cheese. If we do not have the ham cooker, we can squash the mixture in the head cheese bag, close the bag and place it loaded in the refrigerator. Let it stiffen 12 hours in the fridge.
12.
Take solid head cheese out and remove the bag.
13.
Slice the head cheese and serve with bread and mustard. It is delicious with onion in vinegar.
14. Vinegar onion
onion • water • vinegar • salt
Peel an onion, slice it and put in a bowl. Pour water into half of the onion and add vinegar and salt to your taste. Stir.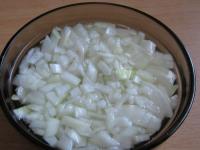 Bon appetit!