Goulash with Beans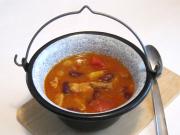 Tasty, rich goulash. Served with bread.
recipe,photo-recipe,pork shoulder,tomatoes,kidney beans,Pork,Gluten-Free,Lactose-Free
Pork
Recipe
2.
green peper 5.25 oz (150 g)
Add cored, washed green pepper cut into thin strips. Braise until it becomes soft.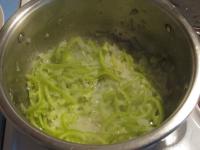 3.
pork shoulder 14 oz (400 g)
Wash meat, cut it and add to the pepper and onion base.
5.
water 2.1 cup (500 ml)
.... and pour water in. Cook covered while stirring occasionally 35-40 minutes.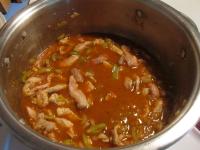 6.
potatoes 7 oz (200 g)
Peel potatoes, wash them and cut into small cubes.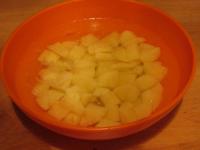 7.
tomatoes 14 oz (400 g) • garlic 2 cloves
Pour boiling water over the tomatoes, allow them to rest for a while, peel them and chop. Peel garlic.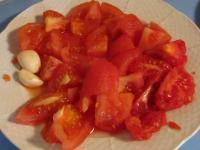 8.
Add potatoes and tomatoes to almost done meat. Stir and cook until potatoes become tender.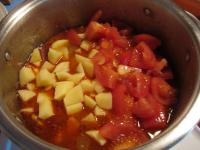 9.
kidney beans 8.75 oz (250 g)
Add drained kidney beans to the finished goulash ...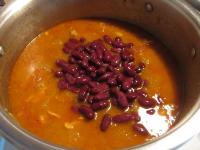 10.
... and pressed garlic. Bring to the boil and serve.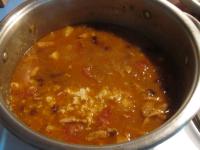 Bon appetit!