Pork loin chops
A simple process for preparingdelicious steaks from fine pork tenderloin. Pan can be replaced by garden grill.
recipe,photo-recipe,tenderloin,Pork,Grill recipes,Gluten-Free,Lactose-Free
Pork
Recipe
1.
Cut the tenderloin into individual pieces. You can do a medallions from the part that is not as thick as the others. It roaste
2.
olive oil • salt • ground black pepper
Brush the steaks with oil and season with salt and pepper. Rub salt and pepper into the surface of meat with your fingers.
3.
Fry it from all sides on the hot pan. Turn over after a minute, total time depends on the thickness of the meat . We recommend 4-6 min.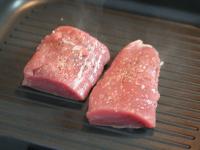 Bon appetit!