Stuffed peppers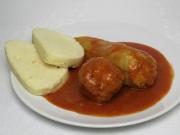 recipe,photo-recipe,paprika,minced pork meat,tomato paste,Pork,Lactose-Free
Pork
Recipe
1. Preparation of rice and peppers
rice 7 oz (200 g) • salt 1 tsp • paprika 1.8 lb (800 g)
Cook the rice and let it cool. Wash the peppers, cut the tops off and carefully scoop seeds from cavities. Do not damage the peppers.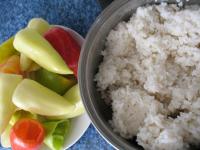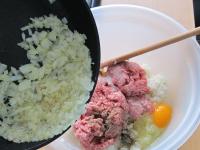 3. Filling of peppers
flour medium 1.75 oz (50 g)
Gently press the mixture into prepared peppers. Dip the mixture on top of the pepper in fine flour. Form small balls from the remaining mixture and coat them gently in the flour, too.
4. Preparation of tomato sauce
tomato paste 1.6 quart (1500 ml) • water 1.6 quart (1500 ml) • salt 2 tsp • vinegar 1 tbsp • sugar granulated 4.25 oz (120 g) • bay leaf 4 pcs • flour medium 1.75 oz (50 g) • water 6.75 tbsp (100 ml)
Pour tomato paste in a larger pot, add water, salt, sugar, vinegar and bay leaf. Bring to boil. In a smaller bowl prepare roux from water and flour. Pour roux into the sauce and bring to boil while stirring constantly.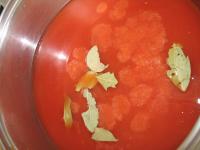 5. Cooking
Carefully drop stuffed pepper and prepared balls in the boiling sauce. Cook covered for 1,5 hour. Occasionally, stir carefully. Prevent the balls from breaking or sticking to the bottom of the pot.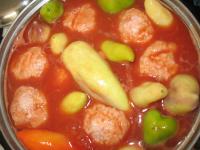 6. Serving
Serve warm with steamed dumpling, boiled potatoes or with bread.
Bon appetit!