Walnut Judas Buns
Favourite Easter pastry - we offer a recipe with walnuts.
recipe,photo-recipe,semi skimmed milk 1,5%,flour medium,flour medium,unsalted butter,walnuts,Pastry,Easter recipes
Pastry
Recipe
2.
Pour leaven in and knead the dough.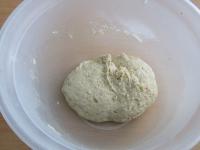 3.
Cover it and allow to rise in a warm place.
4.
Divide the dough into 10 pieces and shape them into equal balls. Shape each one into a cylinder and form them either into braid, spiral or tie them into a knot.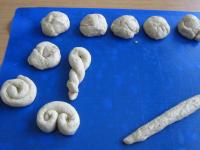 5.
chicken egg 1 pc
Place them on the baking tin lined with parchment paper while leaving adequate space between them. Brush them with beaten egg.
6.
Sprinkle with sugar and remaining walnuts. Let them rise again for 15 minutes.
7.
Bake for 15 minutes at 180 °C.
Bon appetit!