Beer Roasted Spicy Pork Knuckle
Fabulous and really tasty roasted knuckle. Served with bread, sour cucumber, chili peppers, mustard or horseradish.
recipe,photo-recipe,pork knuckle,light beer,light beer,onion,Pork,Gluten-Free,Lactose-Free
Pork
Recipe
1.
pork knuckle 3 pcs • water • salt
Wash three large front pork knuckles and, if needed, use a knife to remove remaining hair from the skin. Put the knuckles in cold water, add salt, bring to the boil and cook for about 2 hours. If you use a pressure cooker, cook the knuckles for 45-60 minutes.
2.
Take the cooked knuckles out, allow them to cool and debone them.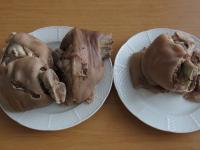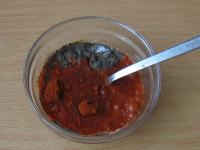 5.
pork lard • onion 8.75 oz (250 g)
Peel onion, cut it into rounds, separate them and pour into the baking tin greased with lard.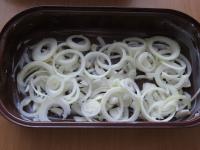 6.
garlic 4 cloves • light beer 6.75 tbsp (100 ml)
Place the knuckles on onion, brush them with garlic, pour in broth (300 ml) and pour them over with half of the marinade. Cover and roast in the oven at 430°F (220°C) for 20 minutes. Uncover, turn on the heat, pour the knuckles over with remaining marinade and roast again. After half an hour pour beer in and roast until done.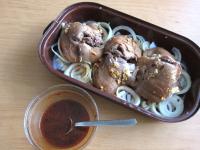 Bon appetit!