Pork Soup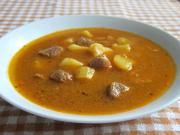 Easy goulash from pork and potatoes.
recipe,photo-recipe,pork shoulder,potatoes,Meat soup,Hungarian cuisine,Gluten-Free,Lactose-Free
Meat soup
Hungarian cuisine
Recipe
1.
onion 3 pcs • paprika 2 pcs • pork lard 1 oz (30 g) • water 3.25 tbsp (50 ml)
Peel three big onions and chop them finely. Clean pepper, wash it and cut into strips. Melt lard in a pot and braise onion with pepper for 15 minutes. Pour in a little bit of water if needed.
3.
potatoes • vegetable salt • garlic • hot pepper paste
Peel potatoes, wash them and cut into cubes. Add them to almost done meat and finish the soup - cook until all the ingredients become soft (for about 20 minutes). At the end season the soup with vegetable salt, peeled pressed garlic and spicy pepper pasta to your taste.
Bon appetit!