Tuna rice salad
Easy guide to preparing tasty unusual salad with rice as a base.
recipe,photo-recipe,rice,frozen green bean pods,canned tuna in vegetable oil,white yogurt,Vegetable salads,Gluten-Free
Vegetable salads
Recipe
1.
rice • sunflower oil 1 tbsp • frozen green bean pods 7 oz (200 g) • chicken egg 4 pcs
Toast the rice (1/2 cup) for about 5 minutes on a little oil and pour it over with 1,5 the amount of water and cook on medium heat for 20 minutes. Cook green beans in salted water 10 minutes. Meanwhile make hard boiled eggs.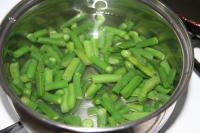 2.
salt • ground black pepper • canned tuna in vegetable oil 5 oz (140 g) • onion 0.5 pc • tomatoes 2 pcs
While you cook all the ingredients, cut an onion and tomatoes into round slices or halfmoons, break up tuna into pieces. When everything is cooked, chop eggs, pour the water off the green beans and rinse them in cold water. Season all the ingredients with salt and pepper to your taste.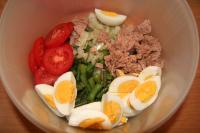 Bon appetit!