Turkey Drumstick Risotto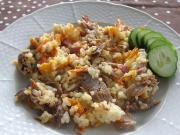 Tasty lunch for saturday. Before serving you can sprinkle the risotto with grated cheese.
recipe,photo-recipe,milled rice,turkey whole leg,bacon strips,Turkey,Gluten-Free,Lactose-Free
Turkey
Recipe
1. Rice
milled rice 8.75 oz (250 g) • salt 1 tsp • water
Rinse the rice under the running water through the sieve. Place into the pot, shortly fry, add salt and pour in a water about 1cm above the surface of rice. Cook under the lid until softened.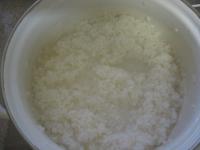 2.
turkey whole leg 2.6 lb (1200 g) • salt • ground red paprika • water ¾ cup (200 ml)
Wash the turkey drumsticks, place on the tray, salt and sprinkle with ground red paprika. Pour in a water and bake covered in the oven for an hour. Baked meat must be easily separated from the bones.
3.
bacon strips 5.25 oz (150 g) • carrots 5.25 oz (150 g)
Trim the carrot and coarsely grate it. Cut the bacon into the strips and slightly fry it.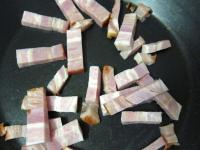 4.
water 3.25 tbsp (50 ml)
Add carrot into the bacon, pour in a water and stirring occasionally steam for 5-10 minutes.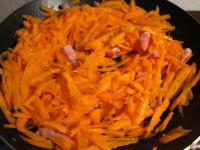 5.
Let the baked turkey drumsticks cool down so it is possible to touch it by hands. Separate the meat, so remove all bones thoroughtly. Cut the meat into the smaller pieces.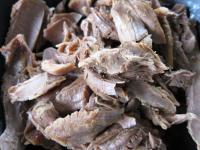 6.
Add meat, carrot with bacon into the rice. Gently but thoroughtly blend it.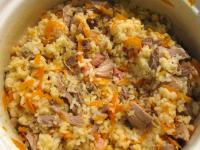 Bon appetit!