Filled Coconut Eggs
Easter delicacy for big whippers.
recipe,photo-recipe,grated coconut,grated coconut,unsalted butter,unsalted butter,biscuits,Confectionery,Easter recipes
Confectionery
Recipe
1.
raisins 1.75 oz (50 g) • rum 3.25 tbsp (50 ml)
Place raisins in rum and allow them to soak for 24 hours.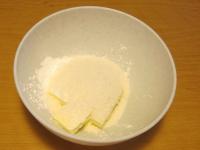 3.
Mix strained raisins in and place it in the refrigerator.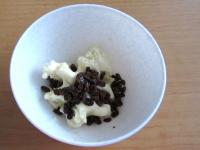 5.
Work the soft mixture and place it in the refrigerator. Cool it for a while and then form 34 pieces of equal balls. For better handling, place them again in the refrigerator.
6.
hazelnut 34 pcs
From the white coconut mixture form 34 pieces of small eggs. Put hazelnut into each egg.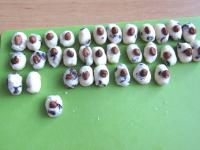 7.
Press each dark ball so that it becomes flat and cover the white egg with it. Shape them into eggs, as good as we can :).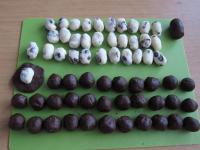 8.
Place eggs in the refrigerator. Once they are stiff, finish the shaping ...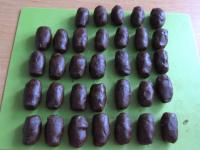 10.
Store in the refrigerator.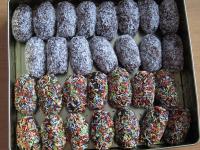 Bon appetit!