Ham Roulade
Excellent snack suitable for any party, Easter Monday as well as New Year´s Eve.
recipe,photo-recipe,chicken egg,processed cheese,unsalted butter,blue cheese,ham,Gouda cheese,red pepper sterilized,Apetizers,New Year's Eve,Easter recipes,Gluten-Free
Apetizers
Recipe
1. Filling for roulade
chicken egg 4 pcs • processed cheese 7 oz (200 g) • unsalted butter 3.5 oz (100 g)
Prepare hard-boiled eggs. Peel the eggs and split yolks from whites. Mix the yolks with processed soft cheese and soften butter.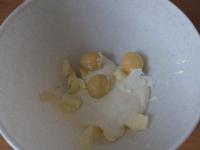 2.
blue cheese 3.5 oz (100 g)
Roughly grate the cheese and mix into the yolks.
3.
Finely cut the egg whites and stir into the filling.
4.
ham 7 oz (200 g)
Spread doubly aluminium foil on the working desk. Place slices of ham over the aluminium foil that edges overlap. Create rectangle 30x28 cm.
5.
Gouda cheese 3.5 oz (100 g)
Place thin slices of cheese accross the ham.
6.
Spread filling over the cheese...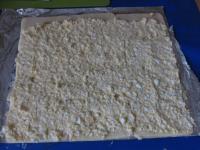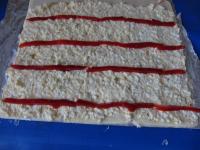 8.
Roll the roulade, pack into the aluminium foil and place in the fridge overnight.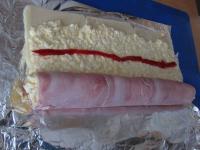 9.
Before serving remove the foil and cut the roulade.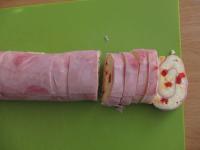 Bon appetit!