Stuffed Eggs
Recipe for the prep of excellent stuffed eggs with ham and horseradish filling, perfect as an Easter treat or for any of family celebration.
recipe,photo-recipe,chicken egg,unsalted butter,pork ham,Apetizers,Easter recipes,Gluten-Free
Apetizers
Recipe
1.
chicken egg 6 pcs
Hard boil the eggs (boiling for about 8-10 minutes), let it cool and peel it. Cut into the halves and take the egg yolks out.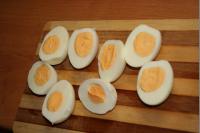 2. Filling base
unsalted butter 3.5 oz (100 g) • processed cheese 3.5 oz (100 g) • tatar sauce 2.75 oz (80 g) • salt 0.75 tsp • ground black pepper 0.25 tsp
Mix soften butter with the processed cheese, tartar sauce, salt and pepper. If the eggs are smaller then 120 g butter is sufficient amount. Divide the filling into two parts.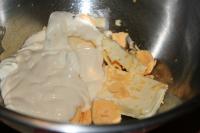 4. Horseradish filling
horseradish 1 tsp • ground garlic 0.25 tsp
Mix the garlic with remaining filling and then flavour with the horseradish.
5.
Fill the egg whites with the fillings by decorating confectionery bag. Decorate with parsley leaves, chive, red pepper, ham, just according to fantasy.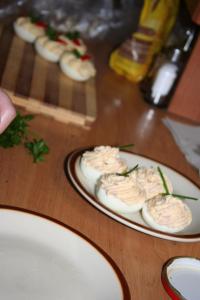 Bon appetit!