Grape sauce in a medieval way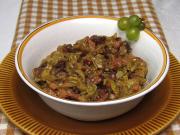 From taste interesting, thick sauce. It is suitable as a non-traditional side dish, together with traditional Lokše (pancakes), to the baked duck.
recipe,photo-recipe,white grapes,bacon,Sauces,Gluten-Free,Lactose-Free
Sauces
Recipe
1.
Put the cleaned grape berries aside.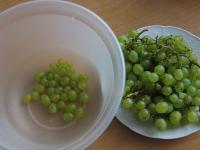 2.
Crush the grape and let it rest for a while.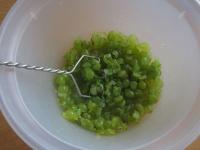 3.
bacon 10.5 oz (300 g)
Cut the bacon and fry it almost in cracklings.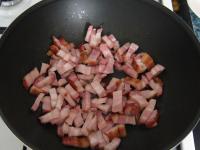 4.
Remove the seed from the crushed grapes. It's easy. Put one part of the grapes on a shallow plate and separate the small seeds on the side of the plate.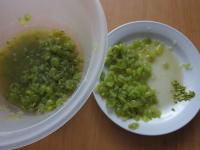 5.
Pour a part of the grease from the pan and add the grapes. Cook for about 15 minutes, stirring frequently.
6.
garlic 4 cloves
Add sliced garlic cloves after 15 minutes. Cook for 5 minutes. Depending on how thick you want the sauce the total cooking time can be extended or shortened.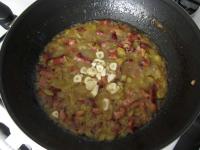 7.
Finally add the chopped fresh sage. You can also add dried sage, then you have to cook the sauce for a while.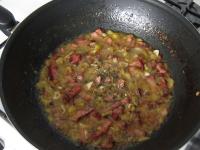 8. Serving
...with baked duck and Lokše.
Bon appetit!