Pea sauce with ramsons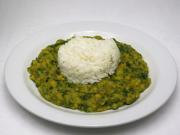 Healthy and tasty sauce made of dried yellow peas and ramsons. The recipe is inspired by the popular Indian dish Dal palak, in which are peas combined with spinach. Serve with basmati rice, for non-vegetarians we recommend cooked smoked meat :)
recipe,photo-recipe,logs dried yellow peas,ramsons,Sauces,Vegetarian recipes,Vegan recipes,,Gluten-Free,Lactose-Free,Seasonal recipes
Sauces
Recipe
1.
logs dried yellow peas 8.75 oz (250 g) • water 3.2 cup (750 ml) • salt 0.5 tsp
Rinse the peas under cold water, put in a pot, add water, salt and cook under cover for about 45 minutes. Uncover the boiled peas and cook for a while to let the water to evaporate adequately.
2.
ramsons 3.5 oz (100 g)
Wash and cut the ramsons,...
3.
... and chop finely in a kitchen chopper.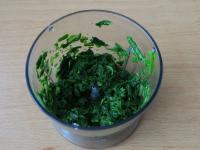 6.
...add peas and ramsons.
7.
Mix and let boil while stirring constantly.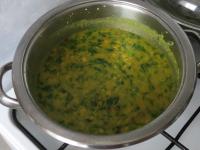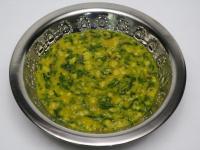 Bon appetit!