Farmer sauerkraut soup with barley groats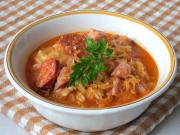 Pot full of delicious soup for Christmas or New Year's table. But of course you can cook this rich sauerkraut soup any time of year.
recipe,photo-recipe,smoked meat,sauerkraut- finely chopped cabbage (fermented),sausage,Meat soup,Christmas,New Year's Eve,Lactose-Free
Meat soup
Recipe
1.
smoked meat • water • water 2.1 quart (2000 ml) • barley groats 3.5 oz (100 g) • onion 5.25 oz (150 g)
Put smoked meat in cold water, bring to boil and cook for about 20 minutes. Then pour the water out and pour in specified amount of fresh water, add barley groats and onion. Cook until the meat is tender - for about 40 minutes.
2.
Take the meat out and cut it into cubes.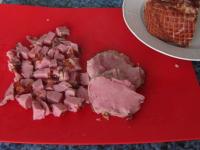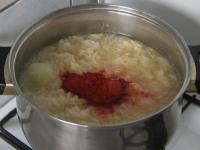 4.
Mix chopped smoked meat in...
5.
sausage 7 oz (200 g) • garlic 5 cloves
... and put the whole sausages in the sauerkraut soup. Cook everything together for 30 minutes. At the end add pressed garlic and to your taste brine from sauerkraut, if the soup is not sour enough.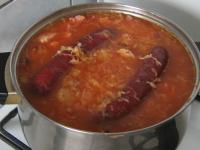 6.
Before serving cut the sausages and put them into each plate. Do not season the soup with salt. It has salty taste from sauerkraut and cooked smoked meat.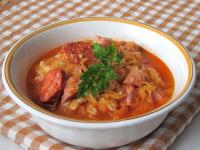 Bon appetit!