Oven-Roasted Chicken Breasts with Sauerkraut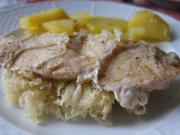 Simple dietetic dish full of vitamins from healthy sauerkraut.
recipe,photo-recipe,chicken breasts,sauerkraut- finely chopped cabbage (fermented),Chicken,Gluten-Free,Lactose-Free
Chicken
Recipe
1. Prep of chicken breasts and potatoes
chicken breasts 14 oz (400 g) • olive oil 3 tbsp • grill seasoning 0.5 tsp • potatoes 14 oz (400 g)
Wash the chicken breasts and cut into the slices. In a bowl pour olive oil over the breasts and sprinkle with black pepper, blend it. Peel the potatoes, wash and cut into the rings.
2.
sauerkraut- finely chopped cabbage (fermented) 1.1 lb (500 g)
Evenly spread sauerkraut into the roasting dish. If it contains a lot of sauerkraut water, squeeze it out. Place chicken breasts over the sauerkraut and cover it with the layer of potatoes. Slightly salt it.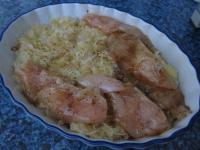 3. Baking
Cover the roasting dish with aluminium foil and bake in preheated oven at medium level for 30 minutes.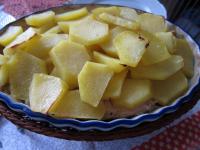 Bon appetit!