Chicken Smoked Legs with Pea Mash in Steamer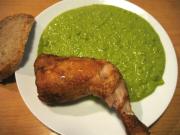 Tasty smoked chicken meal on healthy peas.
recipe,photo-recipe,smoked chicken legs,peas,Chicken,Steamers recipes,Gluten-Free,Seasonal recipes
Chicken
Recipe
1. Chicken legs in steamer
smoked chicken legs 2 pcs
Wash the legs under the water and place into the bottom basket of a steamer.
2. Pea in steamer
peas 1.3 lb (600 g)
Wash the peas and pour into the second basket of a steamer. Set steaming time for 30 minutes.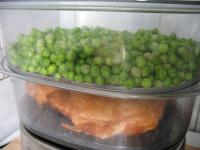 3. Preparation of pea mash
salt 1 tsp • garlic 1 clove • semi skimmed milk 1,5% 6.75 tbsp (100 ml)
Replace the peas after expiring of steaming time into the deeper bowl, pour in the stock, which was produced in a drip tray. With hand blender mix properly, add salt, pressed garlic and a bit of warm milk.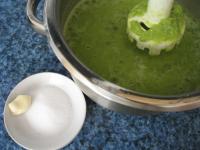 4.
Serve. Serve smoked chicken legs on pea mash with fresh bread.
Bon appetit!