Mixed salad with cheese balls
recipe,photo-recipe,cream curd cheese,cream cheese chive,Emmental cheese,english cucumber,Vegetable salads,Gluten-Free
Vegetable salads
Recipe
2. Shaping cheese balls:
basil 10 leaves
Make balls from cheese mixture, wrap it in the finely chopped basil leaves or fresh chives.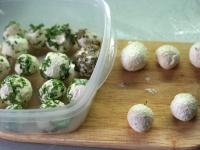 3. Mixed salad
black olives 0.75 oz (20 g) • ice salad 8.75 oz (250 g) • paprika 3.5 oz (100 g) • english cucumber 12.25 oz (350 g)
Salad is created by mixing chopped ice salad, sliced yellow peppers, peeled and chopped cucumber and sliced black olives. Finally, add cheese balls.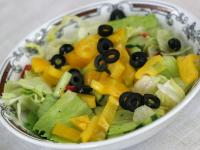 Bon appetit!