Boiled Smoked Pork Neck
Elementary procedure for cooking of smoked meat suitable for boiled vegetables as a warm meal. We can eat it also in a classic way as a cold meal, with mustard and horseradish.
recipe,photo-recipe,smoked pork neck,Pork,Gluten-Free,Lactose-Free
Pork
Recipe
1. Preparation and cooking
Wash the pork neck. Place into a cold water and cook under the lid for 90 minutes.
2.
Let it cool, cut into the slices, according to need, thicker for serving with boiled vegetable, or thinner for cold serving.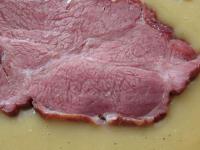 3. Use of stock
Stock from smoked boiled meat can be used for preparation of tasty snack legume soups.
Bon appetit!