Honey and Citrus Smoothie with Ginger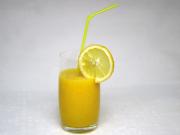 Do you feel tired or cold coming on? Try a glass full of vitamins that will boost your immune system.
recipe,photo-recipe,orange,honey ,Smoothies,Raw food,Vegan recipes,Vegetarian recipes,,Gluten-Free,Lactose-Free
Smoothies
Recipe
1.
orange 10.5 oz (300 g) • lemon 3.5 oz (100 g) • ginger-root 0.25 oz (8 g) • water 6.75 tbsp (100 ml)
Peel oranges and lemon, separate it into individual segments and put them in a blender. Peel piece of a ginger root and cut two thin slices out of it. Add them to oranges, pour in water and blend.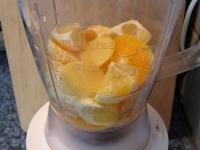 2.
honey 1 tbsp
Add a tablespoon of honey and blend.
3.
Pour smoothie into glasses and serve immediately.
Bon appetit!