Tuna salad with ribbed celery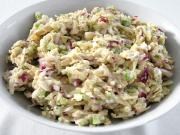 Mix of flavors combined in the salad is creating an excellent delicacy.
recipe,photo-recipe,apples,canned tuna in vegetable oil,ribbed,Fish salads,Gluten-Free,Seasonal recipes
Fish salads
Recipe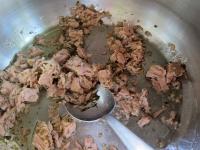 2.
apples 15.75 oz (450 g)
Peel apples, grate them coarsely and mix into tuna.
3.
Add prepared and finely chopped eggs and gently stir.
4.
ribbed 7 oz (200 g)
Add into the salad finely chopped ribbed celery ...
5.
red onion 5.75 oz (160 g)
... and peeled, finely chopped onion. Stir.
6.
mayonnaise 8.75 oz (250 g)
At the end stir in mayonnaise and let the salad rest in a cold place until serving time.
Bon appetit!