Apple-cheesecake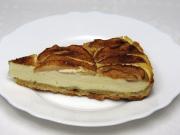 Creamcurd-pudding filling, juicy cinnamon apples on it ... yummy :)
recipe,photo-recipe,cream curd,apples,Pastry
Pastry
Recipe
2.
Wrap the dough in foil and let it rest in the fridge for 30 minutes.
3.
Press the dough evenly into a silicone mould with a diameter of 30 cm. Prick with a wooden skewer and bake for 15 minutes in preheated oven at 670°F (355°C) F (355°F (180°C) C). (Do not switch off the oven).
5.
apples 12.25 oz (350 g)
Wash the apples, cut them, remove the cores and cut them into thin slices. Pour the cream curd filling on the dough and put the apples on it.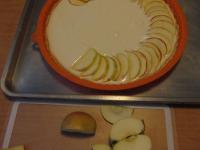 6.
Sprinkle with cinnamon sugar and put in the oven for 35-40 minutes. At the end of baking, you can cover the cake with aluminium foil as needed so that the apples do not burn.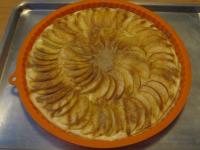 7.
Cut the cooled cake with a sharp knife into portions :)
Bon appetit!