Apple Pie with Cinnamon
Delicate, tasty, apple pie.
recipe,photo-recipe,apples,Pastry,Seasonal recipes
Pastry
Recipe
1.
powdered sugar 1 tbsp • chicken egg 1 pc • unsalted butter 5.25 oz (150 g) • salt 1 pinch • all-purpose flour / plain flour 8.75 oz (250 g)
Mix the above mentioned ingredients to prepare "pâte à foncer" dough. Start with beating softened butter with sugar. Stir in egg and salt. Gradually add sieved flour. Place the prepared dough into refrigerator for at least half an hour.
2.
apples 1.3 lb (600 g)
Peel apples, cut them into quarters, core them and cut into thin halfmoons.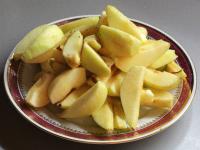 4.
Cook apples while stirring frequently for about 10 minutes. Allow them to cool.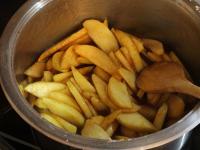 5.
Take the dough out of the refrigerator, use a rolling pin to spread it on a board dusted with corn starch into a circle.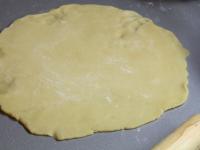 6.
Place the dough into a round cake form and press the dough until the edge of the form.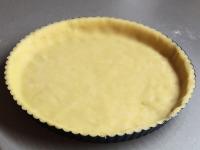 7.
Evenly lay the prepared cold apple compote on the dough.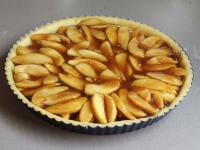 8.
Bake for 40 minutes at 180 °C.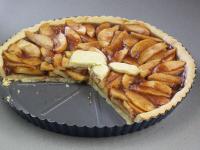 Bon appetit!