Scary fingers of the witch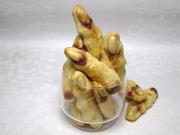 Crispy Halloween biscuits.
recipe,photo-recipe,almonds,Biscuits,Halloween,
Biscuits
Recipe
1.
almonds 25 pcs
Cook whole almonds in water for a while.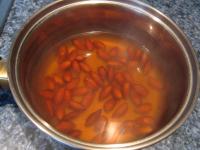 2.
Then pour them over with cold water and peel them.
5.
Use a rolling pin to spread the dough until thick and cut it into 25 equal pieces. Take one piece in your hand, press it by opening and closing of your hand until it has shape of a finger.
6.
egg white 1 pc
Brush end of the finger with beaten egg white and press in whole almond with peak upwards.
7.
Place the fingers on baking tin lined with parchment paper and use blunt side of knife to make cuttings at knuckles.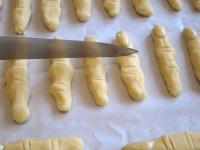 8.
We can brush fingers around nails and ends with jam to make fake blood. Brush the whole fingers with beaten egg white and bake in preheated oven at 375°F (190°C) for 12 minutes.
9.
Let the fingers cool, then take them from the baking tin and put into some box with cover, or serve them immediately.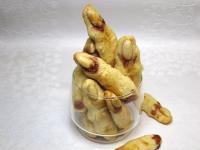 Bon appetit!