Pork Rolls (Spanish Rolls) in Steaming Pot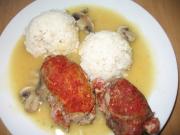 Favourite spanish rolls from pork meat prepared in steaming pot.
recipe,photo-recipe,pork thigh,chicken egg,poultry sausages,Pork,Steamers recipes
Pork
Recipe
2.
ground red paprika 1 tsp • salt
Sprinkle with ground red paprika, salt and place into the first (bottom) part of steaming pot. Adjust steaming time to 60 minutes.
3.
rice 12.25 oz (350 g) • mushrooms 5.25 oz (150 g)
After 20 minutes of meat steaming, add the second steaming insert where the bowl for rise cooking with rise inside is placed. Rinse the rise under the running water through the sieve several times, let it drain, place into the part for rise cooking, salt, pour in a water about 1,5cm above the rise surface. Steam further all together. 10 minutes before finishing of steaming add third steaming part with washed and chopped mushrooms.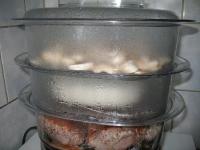 4.
all-purpose flour / plain flour 2 tbsp • water 3.25 tbsp (50 ml)
Place steamed mushrooms into the saucepan and pour in the stock which was produced during steaming in a pot strainer of steaming pot. Place saucepan on the cooker, bring to the boil and pour in the flour stirred in about 0,5 dcl water. Cook the sauce and season with vegetable seasoning.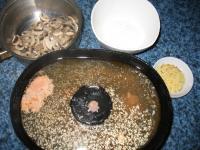 5.
Remove the kitchen skewers or strings from the spanish rolls and serve with the rise poured with the sauce.
Bon appetit!