Pork with Creamy Carrot Sauce.
Tasty lunch not only for children. Served with pasta.
recipe,photo-recipe,pork thigh,carrots,sour cream (fat 14-18%),Pork,Children recipes
Pork
Recipe
1.
onion 5.25 oz (150 g) • sunflower oil 2 tbsp (30 ml)
Peel onion, chop it finely and fry in oil.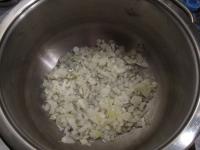 2.
pork thigh 1.3 lb (600 g) • carrots 7 oz (200 g)
Wash pork and cut it into strips. Peel carrot and wash it.
3.
water ¾ cup (200 ml) • salt 1.5 tsp
Add meat and carrot to the onion and cook for a while. Pour in water, season with salt (for children add less or no salt) and braise covered until meat becomes tender.
5.
sour cream (fat 14-18%) 14 oz (400 g)
Take the carrot out of the pot, pour the roux in and bring to the boil. Set the pot aside and stir sour cream in.
6.
Use a hand blender to blend carrot ....
7.
... and mix it with meat.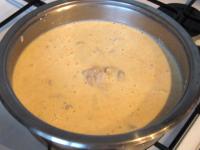 Bon appetit!