Walnut Crescents
Soft, Christmas durable pastry.
recipe,photo-recipe,cooking chocolate,ground walnuts,Biscuits,Christmas
Biscuits
Recipe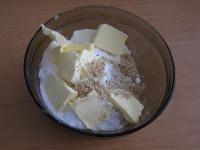 2.
Work compact dough and leave in a cold place for 30 minutes.
3.
Line the crescent cookie mold with clingfilm.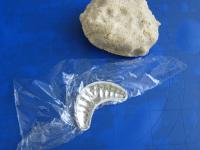 4.
From dough form a small cylinder with diameter 2,5 cm and cut into 1,5cm pieces approximately. Press each piece into the mold...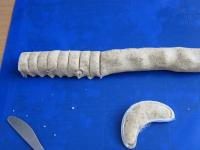 5.
... and turn out, in adequate distance from each other, on the tray covered with baking paper.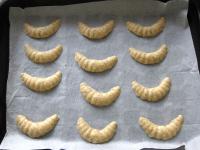 6.
Bake for 10 minutes at 180 °C.
7.
cooking chocolate 5.25 oz (150 g) • margarine 0.5 oz (15 g)
Brake chocolate into a deeper pan, add a little 100% vegetable margarine for toppings and melt in a hot water. Dip one end of crescent into the topping creating the cap and place on the grid.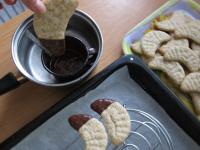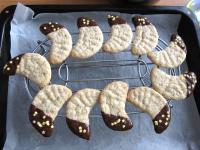 9.
You can draw the eyes and mouth with brush dipped in a chocolate :)
Bon appetit!