Valentine's apple pie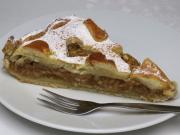 Tasty sweet heart, full of apples and love.
recipe,photo-recipe,cream curd,apples,Pastry,Valentine's Day
Pastry
Recipe
2.
... and wrap it in food foil. Let it rest in the cold for 20 minutes.
3.
all-purpose flour / plain flour
Divide the dough in half. Roll one half on a floured board and cut out the heart using a cake mold (size about 26x26 cm) (you can also use a round mold to prepare the cake).
4.
Cut small hearts into the cutted heart. Put the board with the heart in the freezer for 5-10 minutes.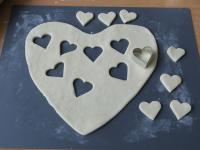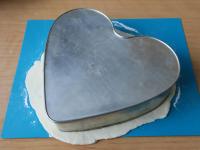 6.
Roll the rest of the dough and cut larger hearts (about 6 cm in size). Put it also in the freezer.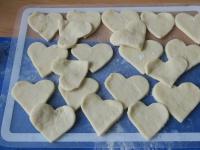 7.
apples 1.1 lb (500 g)
Peel the apples and grate roughly.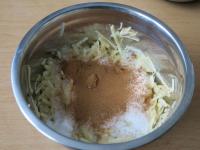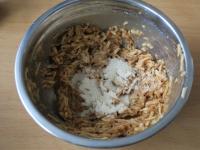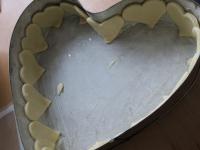 11.
... and insert the cutted heart.
12.
Spread the apple filling evenly and smooth.
13.
Cover with a dough with cutted hearts.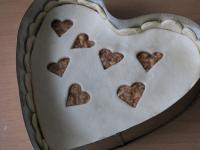 14.
Spread with beaten egg, stick the cutted hearts and spread with egg again.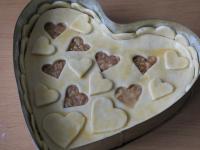 15.
Put in a preheated oven and bake at 670°F (355°C) F (355°F (180°C) C) for 40 minutes (check during baking and if the top burns, cover it with foil during baking).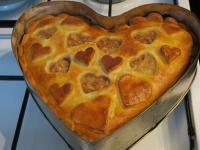 16.
Let the baked cake cool. Then tip it on our hand, turn it over and place it on a flexible board. Sprinkle with sifted powdered sugar.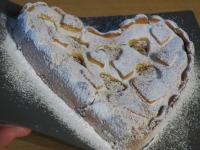 17.
Use a brush soaked in water to clean the hearts.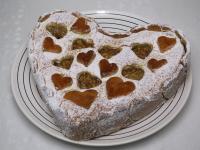 Bon appetit!