Cauliflower with Indian spices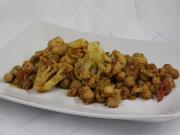 Recipe for spicy cauliflower with Indian spices and chickpeas. You can serve basmati rice as a side dish.
recipe,photo-recipe,spice turmeric,Garam masala spice,ground Roman caraway spice - jeera,cauliflower,Vegetarian dishes,Vegan recipes,Vegetarian recipes,Indian cuisine,Gluten-Free,Lactose-Free
Vegetarian dishes
Indian cuisine
Recipe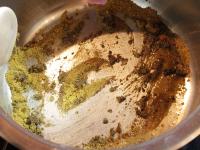 2.
onion 4.25 oz (120 g)
Add finely chopped onion. Fry the onion for a while.
3.
sterilized tomatoes 14 oz (400 g) • water 6.75 tbsp (100 ml)
Add sterilized tomatoes, cutted into smaller pieces, with the infusion, to the pot. Addr water. Mix and simmer for a while.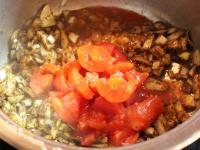 4.
cauliflower 1.2 lb (560 g) • sterilized chickpeas 8.5 oz (240 g) • salt 0.5 tsp
Dismantle the cauliflower into florets, wash and add to the sauce. Add strained sterilized chickpeas. Salt.
5.
Cover and simmer, stirring from time to time until the cauliflower softens. If necessary, you can add a little water if it evaporates quickly.
Bon appetit!