Homemade Tortillas Stuffed with Spinach Chicken Filling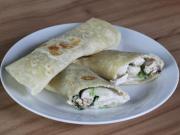 Simple and also tasty recipe for wheat pancakes with chicken meat and dressing.
recipe,photo-recipe,chicken breasts,fresh spinach leaves,Chicken,
Chicken
Recipe
1. Tortilla dough
flour medium 8.75 oz (250 g) • olive oil 5 tbsp • water ½ cup (120 ml) • salt 2 tsp
Prepare homemade tortillas by mixing of flour, hot water, oil and salt. Knead the dough and let it rest for 10 minutes. Divide the dough into the smaller parts and roll out pancakes.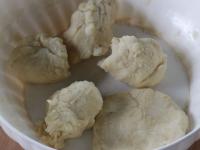 2. Fry the pancakes
Fry the pancakes on both sides in dry skillet.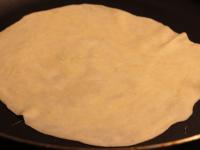 3. Sauté the chicken meat
chicken breasts 12.25 oz (350 g) • olive oil 1 tbsp • onion 5 oz (140 g)
In the skillet sauté pieces of chicken meat with the spring onion in an oil (before frying you can marinate the chicken in favourite marinade).
4. Add spinach
fresh spinach leaves 1.7 lb (750 g)
When the meat shrinks, add leaves of fresh spinach, steam for 5 minutes.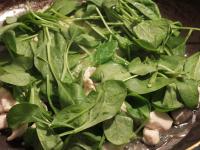 5.
white yogurt 6.75 tbsp (100 ml) • garlic
From the skillet remove excessive water released from the spinach, fill the torilla with the mixture, pour yoghurt dressing over. With the hands roll the tortilla into the shape of cylinder.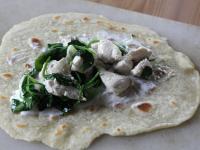 Bon appetit!