Poultry Shashlik with Carrot and Pears in Steamer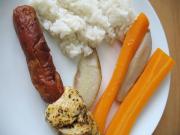 Tastily interesting meal from poultry sausages and chicken meat.
recipe,photo-recipe,chicken breasts,carrots,pear,rice,Chicken,Steamers recipes
Chicken
Recipe
1. Preparation of poultry sausages
poultry sausages 6 pcs • olive oil 0.5 tbsp
Slightly cut the sausages and fry in the skillet with a bit of olive oil.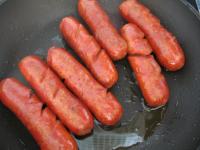 2.
chicken breasts 1.1 lb (500 g) • grill seasoning 0.5 tsp • basil 0.5 tsp
Wash the chicken meat, cut into the cubes, sprinkle with grill spices and basil. You can place the meat into the spices a day before cooking.
3.
Thread sausage and 2-3 cubes of chicken meat onto the prepared skewers. Place into the bottom basket of a steamer.
4.
carrots 1.1 lb (500 g) • pear 2 pcs
Trim the carrot, cut into the lengthwise slices. Core the pears and cut lengthwise too. Place vegetable and fruit into the second insert of steaming pot.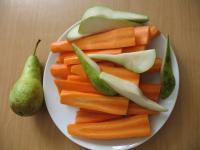 5.
rice 7 oz (200 g) • salt 0.5 tsp
Rinse the rice, pour into the rice bowl, pour in a water, salt and place into the third basket of a steamer. Steam for 30 minutes.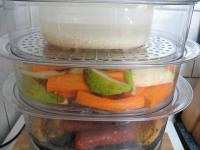 Bon appetit!