Chicken breasts with tomato and mozzarella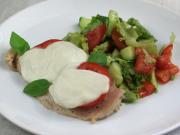 Quick and juicy chicken breasts
recipe,photo-recipe,chicken breasts,mozzarella cheese,Chicken,Gluten-Free
Chicken
Recipe
1.
chicken breasts 1.1 lb (500 g) • oregano 1 tbsp • salt • olive oil 2 tbsp
Wash the chicken breasts, dry them with paper towel and season them with salt and pepper on both sides. Gently cook them in oil and let the meat pull.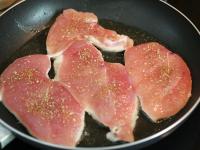 2.
tomatoes 7 oz (200 g) • mozzarella cheese 4.5 oz (125 g)
Place the meat on baking pot, lay on top of it tomatoes sliced into rounds and slices of mozzarella. Pour in gravy from the pan. Cover and bake at 390°F (200°C) for about 10 minutes.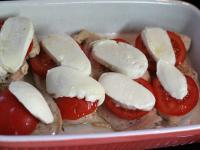 Bon appetit!