Cacciatore Chicken
An italian recipe for chicken Cacciatore in a sauce with herbs, peppers, tomatoes and black olives. As a side dish are suitable spaghetti or rice .
recipe,photo-recipe,chicken legs,chicken breasts,red pepper,tomatoes,black olives,Chicken,Lactose-Free,Italian cuisine,Seasonal recipes
Chicken
Italian cuisine
Recipe
1.
chicken legs 2 pcs • chicken breasts 2 pcs
Wash the chicken, remove the skin, bones and cut the thighs and breasts into smaller pieces.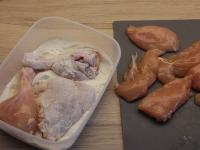 3.
rapeseed oil 3 tbsp
Fry the chicken pieces in hot oil ...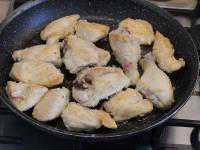 5.
Put the fried pieces of chicken to a baking dish.
6.
onion 7 oz (200 g) • red pepper 7 oz (200 g)
Fry the finely chopped onion and red pepper in the chicken roast.
7.
white wine 6.75 tbsp (100 ml) • garlic 3 cloves
When the onion is fried, cover it with wine and let it evaporate. Stir in pressed garlic.
8.
tomatoes 14 oz (400 g)
Add peeled chopped tomatoes.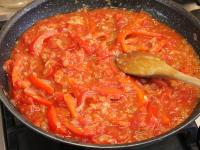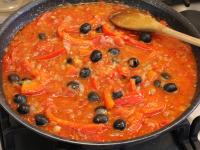 10.
Pour the sauce over the prepared chicken pieces.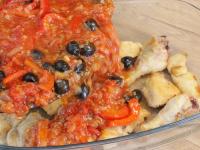 11.
Bake for 45 minutes at 180 °C.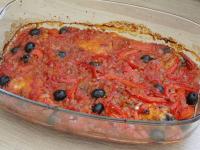 12.
Mix lightly after backing and you can serve.
Bon appetit!