Pork Medallions in Vegetable Sauce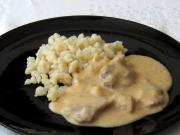 Pork meat in a soft sauce of carrot, broccoli and cauliflower. Serve with dumplings or steamed dumpling.
recipe,photo-recipe,pork shoulder,vegetable frozen (carrot, broccoli,cauliflower),Pork
Pork
Recipe
2.
pork shoulder 1.3 lb (600 g)
Trim fat off the pork shoulder, wash and cut into the slices. Add the meat into the onion and blend until shrunk.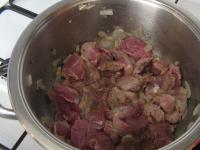 3.
salt 1 tsp • ground black pepper 0.5 tsp • garlic 2 cloves • water 2.1 cup (500 ml)
Pour in the salt, black pepper, add pressed garlic cloves and pour in a water. Stirring occasionally cook under the lid for 20 minutes.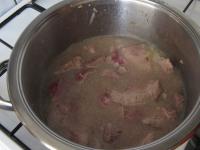 5.
During the cooking the water in a saucepan is almost steamed off. Take the meat of the saucepan.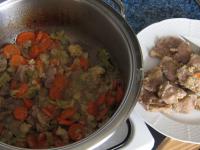 6.
whole milk 3.5% 2.1 cup (500 ml) • all-purpose flour / plain flour 0.25 oz (10 g) • salt
Pour milk into the vegetable in a saucepan and add flour. Mix all together, place back over the heat and bring to the boil. Salt the sauce according to taste.
7.
Place meat medallions into the sauce. You can serve it.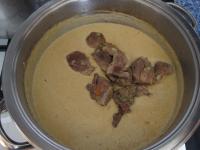 Bon appetit!