Roulade with Mascarpone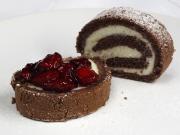 Delicate roulade with mascarpone cream and cocoa-coffee base.
recipe,photo-recipe,strawberries,sugar granulated,cocoa powder,mascarpone,Roulades
Roulades
Recipe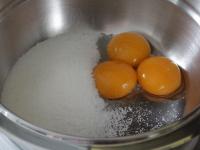 2.
black coffee 3.25 tbsp (50 ml)
Stir in the coffee, made a cooled beforehand.
4.
egg white 3 pcs
Beat the egg whites until they are foamy.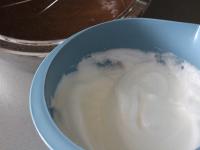 5.
Gently incorporate the egg white foam into the batter...
6.
... and pour into the baking dish covered with baking paper.
7.
Bake for 20 minutes at 180 °C.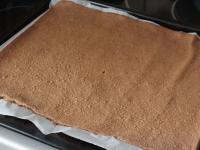 8.
After baking, roll the dough and let it cool. It holds better shape after filling with cream.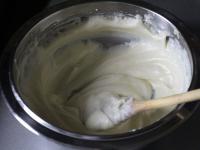 10.
Spread the filling over the base...
11.
...and roll it up. Let it harden in a cold place.
12.
strawberries 3.5 oz (100 g) • sugar granulated 1 tsp • lemon-juice 1 tbsp
Cut the strawberries into the eight smaller pieces. Warm it up with the sugar and lemon juice in a pan for 5 minutes. Cut the roulade and serve with the strawberries.
Bon appetit!