Tiramisu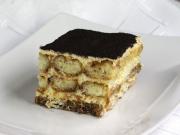 Delicate Italian dessert.
recipe,photo-recipe,egg yolk,mascarpone,long biscuits (ladyfingers),Cream deserts,Italian cuisine
Cream deserts
Italian cuisine
Recipe
1.
egg white 4 pcs
Beat the egg whites until they are foamy.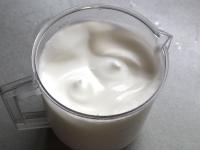 2.
egg yolk 4 pcs • powdered sugar 3.5 oz (100 g) • mascarpone 1.1 lb (500 g) • rum
Beat egg yolks with sugar over a hot water bath, cool them and mix mascarpone in. Beat also egg whites foam over the hot water bath and once it is cold, mix it in mascarpone. We can add few drops of rum.
4.
water • ground coffee • coffee liqueur 2 tbsp (30 ml)
Cook about 200 ml of espresso coffee and mix it with coffee or almond liqueur to your taste. Use a tablespoon to pour the biscuits over with part of the coffee, or gradually but quickly dip biscuits in the coffee.
5.
Lay one-third of the mascarpone cream on the biscuits, again place biscuits, pour over with coffee and repeat again.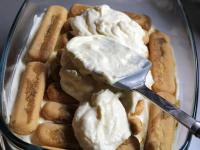 6.
Create three layers, the last layer is the cream.
7.
Sprinkle the surface with sifted cocoa powder.
8.
Place the dessert for a few hours in the refrigerator. Once the dessert becomes stiff, cut it and serve.
Bon appetit!