Homemade Cheesecake with Blueberries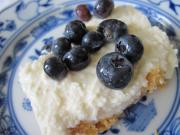 Simple, no-bake dessert for gourmands.
recipe,photo-recipe,butter biscuits,mascarpone,cream cheese 40% fat,blueberries,Cream deserts,No-Bake
Cream deserts
Recipe
2.
unsalted butter 7 oz (200 g)
While crushing them, allow butter to melt on medium heat. Mix melted butter with crushed biscuits.
4.
Pour mixture of biscuits with butter in the baking tin and flatten the surface.
5.
powdered sugar • lemon-juice • blueberries
Cover the cake base with cream cheese mixture. Place the fake cheesecake into the refrigerator for a night and serve the other day decorated with blueberries mixed with sugar and lemon juice.
Bon appetit!