Pear Pie with Pudding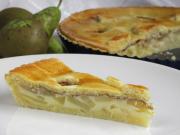 Easy recipe for a delicious pie with fragile pastry and filling from pieces of pear in vanilla pudding.
recipe,photo-recipe,vanilla pudding - powder,pear,Pastry
Pastry
Recipe
1.
powdered sugar 1 tbsp • chicken egg 1 pc • unsalted butter 6.25 oz (180 g) • salt 0.25 tsp • all-purpose flour / plain flour 10.5 oz (300 g)
Mix the above mentioned ingredients to prepare "pâte à foncer" dough. Start with beating softened butter with sugar. Stir in egg and salt. Gradually add sieved flour. Place the prepared dough into refrigerator for at least half an hour.
3.
pear 14 oz (400 g)
Stir in the cooked pudding peeled pears cut into small pieces.
4.
unsalted butter 0.25 oz (10 g)
Use a rolling pin to spread a little more then half of the dough until it is about 3 mm thin and press it into greased baking form.
5.
ground cinnamon 0.5 tsp • honey 2 tsp
Add pudding with pears, sprinkle with ground cinnamon and honey.
6.
Use a rolling pin to spread also the remaining dough and lay it on top of the pie.
7.
Cut off the excess dough and we can use it for pie decoration.
8.
chicken egg 1 pc
Before baking brush the surface with beaten egg.
9.
Bake for 40 minutes at 180 °C.
Bon appetit!