Apple Roulade with Marzipan
Something sweet for guys who are whipping girls on Easter Monday.
recipe,photo-recipe,apples,Roulades,Easter recipes
Roulades
Recipe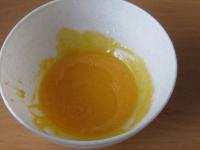 3.
... and incorporate egg white foam.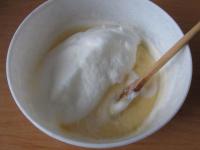 4.
Pour the batter into the baking dish (32x44cm) covered with baking paper and evenly spread it.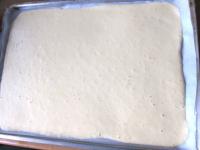 5.
Bake at 355°F (180°C) for 8 minutes.
6.
Roll baked sheet into the roulade, wrap into the wet kitchen towel and let it cool.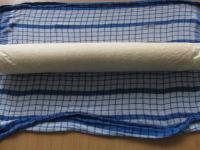 7. Apple filling
apples • sugar granulated 2.75 oz (80 g)
Trim the apples, roughly grate and bring to the boil together with sugar.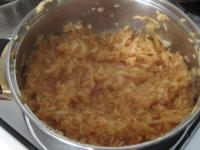 8.
cooking chocolate 1.75 oz (50 g) • water 3.25 tbsp (50 ml) • Chocolate Pudding - powder 1.5 oz (40 g)
Melt the chocolate in a water bath. In a bowl mix the custard powder with the water and pour over the apples. Cook until thickened, finally stir in the melted chocolate.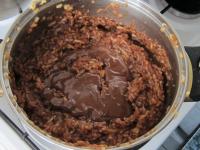 9.
unsalted butter 1.75 oz (50 g)
Let the apple filling cool to a room temperature and stir in the melted butter.
10. Filling the roulade
chestnut puree 4.5 oz (125 g) • marzipan 7 oz (200 g)
Unroll the base and ease the baking paper. Spread the filling over the roulade (leave the gap at the end forward to which the roulade will be rolled) and grate partially defrozen chestnut puree over the filling. From the marzipan create the small cylinder of around 1,5 cm diameter and place it on the edge from which the roulade will be rolled.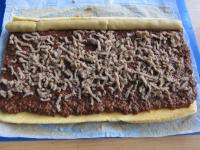 11.
Roll up the roulade and place in fridge for minimum 4 hours to harden.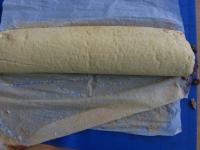 12.
Then decorate with the chocolate...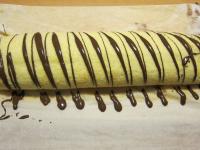 13.
... cut and you can serve.
Bon appetit!