Pasta salad with mozzarella and rolled anchovy eyes
Fresh summer pasta salad, perfect alternative to a warm lunch.
recipe,photo-recipe,pasta - Fusilli (spiral),cherry tomatoes,rolled anchovy eyes,mozzarella balls,Fish salads,Lactose-Free
Fish salads
Recipe
1. Pasta preparation
pasta - Fusilli (spiral) 1.1 lb (500 g) • olive oil 4 tbsp
Cook pasta according to package directions. Add olive oil into the cooked and drained pasta. Mix well.
2.
cherry tomatoes 10.5 oz (300 g) • rolled anchovy eyes 1.5 oz (45 g) • mozzarella balls 7 oz (200 g)
Wash cherry tomatoes, cut them into halves or quarters. Cut rolled anchovy eyes into small pieces. Take mozzarella balls out of brine, rinse them under running water.
3.
Mix tomatoes, rolled anchovy eyes, mozzarella balls into cool pasta. Add 4 twigs of thyme. Mix and season with salt to your taste.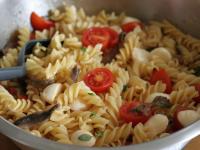 Bon appetit!