Simple chicken soup
Recipe for preparing a tasty homemade chicken soup with vegetables.
recipe,photo-recipe,chicken backs,carrots,celery,Meat soup,Gluten-Free,Lactose-Free
Meat soup
Recipe
1. Broth
water 1.5 • chicken backs 3 pcs • salt 0.75 tsp • whole black pepper 6 pcs • allspice 2 pcs • ground caraway 0.25 tsp
Wash the meat, put it in cold water, add salt and bring to boil. After boiling, remove the foam, add the spices, caraway and cook on the smallest heat for about an hour so that the broth is clear.
2.
carrots 3 pcs • parsley 1 pc • celery 5.25 oz (150 g) • onion 1.75 oz (50 g) • brussels sprouts 5 pcs
After an hour, strain the soup, remove the meat (put the bones away and put the meat back in the soup ), add diced root vegetables, a small onion and brussels sprouts (if you want a stronger soup, add one cube of chicken broth). Cook until the vegetables are softened for about 20 minutes.
3.
Before end, season the soup with spices, vegetable salt and add chopped parsley. Serve the soup with soup noodles.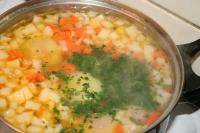 Bon appetit!