Roast Chicken with Potatoes and Ketchup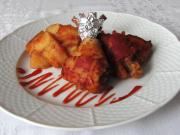 Preparation of roast chicken with side dish in one pot.
recipe,photo-recipe,chicken,ketchup,ketchup,potatoes,Chicken,Gluten-Free,Lactose-Free
Chicken
Recipe
1.
chicken • salt 3 tsp • ground red paprika 3 tsp • ketchup 5.25 oz (150 g) • sunflower oil 2 tbsp
Wash the chicken and cut into several pieces. Separate drumsticks, tights etc. Salt so prepared chicken and sprinkle with ground red paprika, place into the oiled roasting tray and brush with the ketchup.
2.
Peel potatoes, cut into the half moons, add ketchup and blend well. Evenly place over the chicken.
3.
Cover roasting tray and place into the oven for 45 minutes. Then take the tray out, uncover and with fork take pieces of chicken beneath potatoes out and place onto the potatoes. Shortly finish baking uncovered, cca for 20 minutes.
Bon appetit!