Hungarian Trifle (Somlói galuska)
A delicious dessert from Hungarian cuisine prepared according to the traditional recipe. Time-consuming preparation brings this culinary specialty only to the most exclusive restaurants. It is really worth to prepare this famous delicacy at home.
recipe,photo-recipe,raisins,strawberry jam,walnuts,chocolate,Cream deserts,Hungarian cuisine,Seasonal recipes
Cream deserts
Hungarian cuisine
Recipe
1.
sugar granulated 1.5 oz (40 g) • water 1.3 cup (300 ml) • raisins 3.5 oz (100 g) • rum ¼ cup (60 ml)
Caramelize sugar, pour in water and cook. Set it aside and allow to cool. Pour in washed raisins and rum.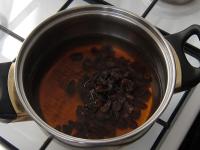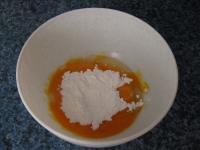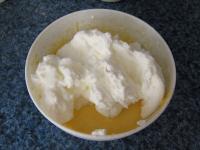 4.
ground walnuts 1.5 oz (40 g) • cocoa powder 0.75 oz (20 g) • water 1 tbsp
Split the dough into three small bowls. Add walnuts to one bowl, cocoa powder with a little bit of water to the second one.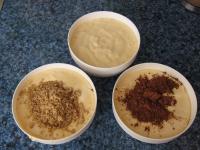 5.
Gradually bake the pastries on baking tin (approx. 20x16 cm) lined with parchment paper. Bake 10-12 minutes at 355°F (180°C). (Hint: You can use a large baking tin and bake two pastries at the same time, just divide the pastries with a piece of parchment paper).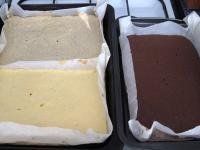 6.
Remove parchment paper from the baked warm pastries. Place the first - white pastry into a deep square bowl. Place the remaining pastries on the kitchen board. Pour them over with cooked caramel and rum.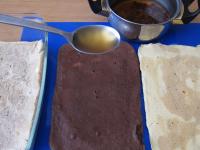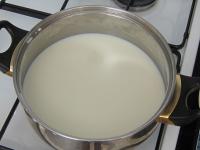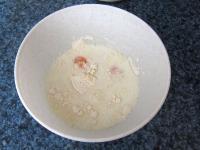 9.
Pour the batter into milk and cook a gruel.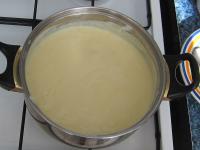 10.
unsalted butter 1.75 oz (50 g) • strawberry jam 5.25 oz (150 g)
Mix a piece of butter into the gruel. Spread mixed jam on top of the cake bases.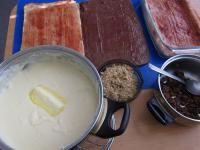 11.
walnuts 3.5 oz (100 g)
Finely chop walnuts. Sprinkle the cake base in the bowl with one-third of the walnuts and one-third of the raisins.
12.
Pour it over with one-third of the gruel.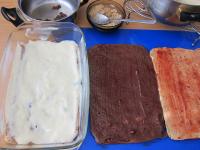 13.
Place dark pastry. Repeat the procedure. Place the walnut cake base and again repeat the procedure.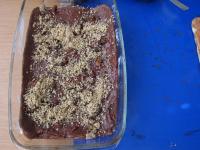 14.
At the end sprinkle with sifted cocoa powder, cover and place in refrigerator for 12 hours.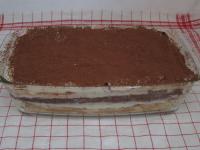 15.
chocolate 3.5 oz (100 g) • cocoa powder 1.75 oz (50 g) • water 5 tbsp (75 ml) • rum 5 tbsp (75 ml)
Melt in a pot chocolate with water and cocoa powder. Once it becomes cool, mix rum in.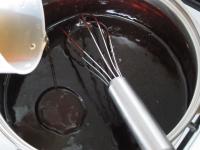 16. Serving
Use a tablespoon to cut "dumplings" out of dessert.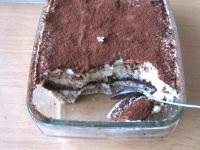 17.
Place the dumplings on dessert plates, into glasses,...
18.
... or bowls. Pour over with chocolate and rum topping and decorate with whipped cream. Use 3-4 dumplings for each portion, based on their size.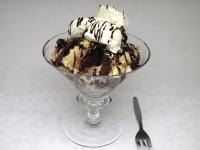 Bon appetit!