Orange fancy cakes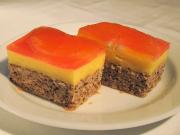 Refreshing dessert, that warms your soul and belly :) on chilly autumn Sunday.
recipe,photo-recipe,walnuts,orange juice,Cream deserts,Seasonal recipes
Cream deserts
Recipe
2.
egg white 4 pcs
Beat the egg whites until they are foamy.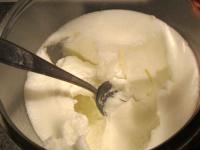 3.
walnuts 1.75 oz (50 g)
Grate walnuts.
4.
Mix walnuts in the beaten egg yolks.
5.
flour medium 1.75 oz (50 g) • baking powder for gingerbread 1 tsp
In parts, by turns stir in flour mixed with baking powder and egg white foam. Pour the batter into a baking tin (30x20 cm) lined with parchment paper.
6.
Bake for 15 minutes at 180 °C.
9.
Pour in into the juice and cook until dense.
10.
orange 2 pcs
Spread hot cream on the cake base and flatten. Lay thin rounds from peeled oranges on top of the pudding. Let it cool.
11.
cake jelly red 0.25 oz (10 g) • water 1.1 cup (250 ml) • sugar granulated 1 oz (30 g)
Dissolve gelatine in water with sugar and cook based on the instructions. Spread it on cool cake, let it stiffen and cut the dessert into fancy cakes.
Bon appetit!