Popsicle cake
We are offering a recipe for favourite creamy dessert. Popsicle cake or popsicle squares? You will decide how many portions you want to serve :)
recipe,photo-recipe,walnuts,unsalted butter,unsalted butter,cooking chocolate,Cream deserts
Cream deserts
Recipe
1.
water 3.25 tbsp (50 ml) • coffee instant 1 tsp
Pour hot water over the coffee and allow it to cool.
2.
walnuts 3.5 oz (100 g)
Grind walnuts.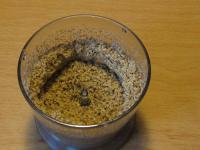 4.
egg white 4 pcs
Beat the egg whites until they are foamy.
8.
...and egg whites foam.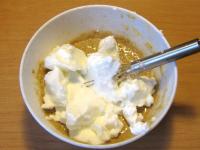 9.
unsalted butter • flour medium
Pour the dough into the baking tin (25 x 30 cm) greased with butter and floured. Bake in preheated oven at 355°F (180°C) for 15 minutes.
12.
Evenly spread the smooth cream over the cake base. Let it stiffen in the refrigerator.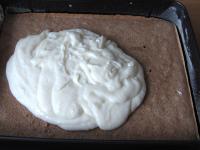 14.
Spread chocolate topping on top of the stiff cream.
15.
Cut before serving. If the chocolate topping is too stiff, cut it with a sharp knife dipped into warm water. When you take the knife out of the water, wipe it dry and gently score the topping. Once the topping becomes stiff again, finish cutting of the cake.
16.
Dessert is delicious when fully cooled.
Bon appetit!