Pear strudel with puff pastry
Juicy strudel full of tasty sweet pears.
recipe,photo-recipe,puff pastry,pear,Strudels
Strudels
Recipe
1.
puff pastry 9.75 oz (275 g)
Use a rolling pin to spread the puff pastry and cut the edges into strips.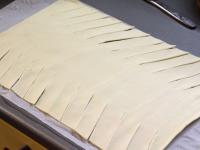 2.
pear 1.1 lb (500 g) • breadcrumbs 3 tbsp • sugar granulated 2 tbsp
Wash pears, core them and cut into small pieces. Lay half of the pears in centre line of the pastry, sprinkle them with half of the bread crumbs and sugar. Add the second layer the same way. Gradually lay strips of the pastry over the top so that they cover the filling.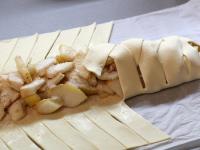 3.
Bake for 40 minutes at 180 °C.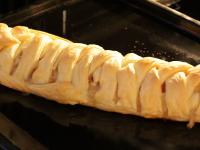 Bon appetit!